Rachel Neumann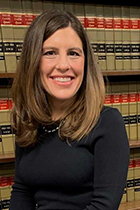 Direct Dial: 214-389-9779
General: 214-360-9777 ext. 128
Email: rneumann@bhnlaw.com
Rachel Lee Neumann joined Bisignano Harrison Neuhoff LLP in 2022. She is committed to helping clients develop an estate plan that reflects their unique circumstances and goals. In addition to estate planning, Rachel represents fiduciaries, heirs, and beneficiaries in probate and trust administrations.
Rachel is a member of the Real Estate, Probate and Trust Law Section of the State Bar of Texas and the Probate, Trusts and Estates Section of the Dallas Bar Association. She is also a member of the Trusts and Estates Section of the Colorado Bar Association.
Before entering private practice, Rachel clerked for the Chief Justice of the Colorado Supreme Court. Prior to law school, she worked in corporate marketing and communications in the hospitality and real estate industries. Rachel is a Dallas native and graduated from Highland Park High School in 1994. She received her bachelor's degree in journalism from the University of Texas at Austin in 1998 and her juris doctorate from the University of Denver Sturm College of Law in 2019, where she specialized in natural resources law and was an editor on the University of Denver Water Law Review. She is licensed in Texas and Colorado.
Rachel is married to Eric and they have three children.